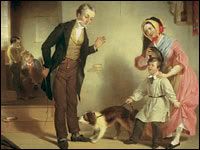 The philosophy of the school room in one generation will be the philosophy of government in the next. Abraham Lincoln

The New Scholar, an 1845 painting by Frances William Edmonds is part of the American ABC exhibit at the Smithsonian American Art Museum More on the exhibit at NPR
I'll be ordering our school books (Tapestry of Grace) and watching for a verdict in the Abraham Cherrix court case today. If your looking for a great price on used literature, Abebooks is worth a look. I've found quite a few good deals.