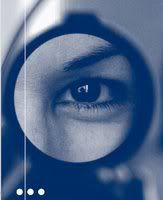 Thanks to new technology,
Outsourcing Parenthood
has just taken a giant leap forward and along with it comes another reason why I think homeschoolers using
public virtual charter schools
are a very bad idea.
Were you under the assumption that school records were kept confidential? Yeah, so was I. Apparently, some schools and educators think your child's information should be other people's business too. And amazingly their sharing it WITH the parents' blessing!
Using a software called
nFocus
, KidTrax shares school records and personal data with community groups who also have an interest in knowing about the same children. Kentucky is one of the first states to adopt the tracking software.
According to a CNN report
,
With the blessing of students' parents, the Jefferson County public school system lets private afterschool centers tap directly into the school database to see grades, attendance, disciplinary problems and details of life at home.

The thinking goes like this: If schools and afterschools share a mission of helping students succeed, why not share school data about who these kids are and what they need?"
With the parents blessing, the government schools share details of home life and whatever else may be in the file. Oh, but why not parents say, anything to make my life easier.
In the Louisville partnership, technology has made sharing data much easlier. No longer do afterschool workers have to bug parents to drop off their kids' report cards.

When students show up at an afterschool facility, they swipe their bar-coded ID cards through a reader, much like a credit-card scanner. The ID cards look like a driver's license, and they light up computer screens with data about the students. Afterschools can find out whether their students' families receive food stamps, or whether the student can swim, has applied for college scholarships or got into trouble for rowdiness.
Don Shaw, Director of the Salvation Army Boys and Girls Club in Louisville, Kentucky praised the program.
The schools have the kids for six hours a day, but we have those same exact kids the minute they leave the building, and I'm open until 8 each night. I've got them for the next six hours," said Don Shaw, executive director of the Salvation Army Boys and Girls Clubs in Louisville."I mean, my goodness, why shouldn't we work together?" he said.
"I mean, my goodness, Really, why shouldn't we work together?" After all, it takes village to raise a child! I mean we wouldn't want to overburden these over worked parents with actually taking care of their own children. Let's just invade their privacy under the guise of convenience. We all just want the best for our children, right?
"Only a few parents out of several thousand have refused to give permission." But I guess to a parent who has already turned their child over to the government to be educated, turning over their private records and details about home life is really no big deal. Put this together with
Teen Screen
where
normal children are labeled "mentally ill"
and it will be a complete package. Why have parents at all? After all, the government nannies have it all under control.
Thanks to
Judy Aron
for letting me know about
KidTrax
.
Related Tags:
KidTrax
,
Teen Screen
,
public schools
,
homeschooling
,
home education
,
homeschooling