According to a report from WTKR
, Abraham Cherrix will NOT have to report for chemotherapy and he will be allowed to remain with his family. A Circuit Court judge has set aside the order of Juvenile Court Judge Demps.
A judge has set aside a court order requiring a 16-year-old cancer patient to report to a hospital for treatment over his objections. A juvenile court judge had ordered Starchild Abraham Cherrix and his parents to report to a Norfolk hospital by one p.m. today, and denied a stay of that order. But the Circuit Court judge scheduled a hearing for noon to consider a request to take over the case and grant the stay.
According to this report from WAVY.Com
[T]he judge suspended the order requiring that Cherrix' parents share custody over Abraham with Child Protective Services.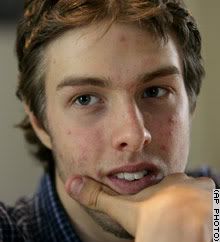 That is indeed good news, but Abraham's battle is not over. Please keep this family in your prayers as they continue to fight the cancer and unfortunately the state as well.
Abraham and his father were interviewed by Sean Hannity today. In the interview, Jay Cherrix said the new court date is August 16, 2006. Abraham has a wonderful attitude. Here's an inspiring answer from this remarkable young man when Hannity asked him about the future.
I cannot look into the future, as I said before, and say, This is going to happen to me and I'm so scared. I can't wake up every morning and say, Oh, my gosh, I'm going to die. You know, I wake up every morning and I say, I'm going to live, and I strive to meet that goal.So there's that possibility that somewhere along this line we made a wrong decision. But you know what? If I die, I'll die happy, and I will die healthy, and I will die in my home with my family, not in a hospital bed, bedridden and sick. (HT: Rebelution)
In the interview, Jay Cherrix said the new court date is August 16, 2006.
Related post: Abraham Cherrix set to refuse chemo. (Has links to all previous posts.)
Abraham's website: Abraham's Journey

Related Tags: Abraham Cherrix, Starchild Abraham Cherrix, home schooling, home education, homeschooling