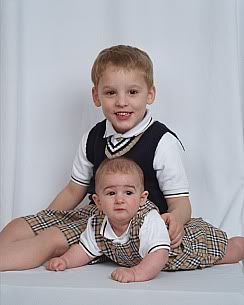 Save Jackson Bortz:
This story is so sad
. And the state's response is turning a tragedy into a nightmare for the Bortz family. Their infant, Dylan (5 months) has died and their older son, Jackson, (age 3) was taken away. Here's an excerpt from
the first post that tells the story
written by the grandmother Randi St. Denis,
"Two weeks ago, Rachel was holding Dylan in his baby seat and Jack ran past her in the kitchen. Rachel lost the grip on the baby seat and Dylan fell to the floor. Both my son Matthew and I were eye witnesses to this. Rachel and I quickly picked Dylan up and applied ice to his head. All he had was a tiny bruise under his eye and a slight puffiness on his eyelid. Five days later we found him in his bed not breathing. Sadly, the bump on his head from five days earlier caused his death and we are grieving beyond imagination.Now DFCS (Department of Family and Children's Services) has stolen our grandson Jackson away for no cause."
They are fighting to get him back. They have set up a website
Save Jackson Bortz
where you can read all the updates. They are part of the
Georgia Home Educators Encouragement Alliance
. They are asking for prayer and an email / phone campaign to get the attention of the DFCS and bring home their son.